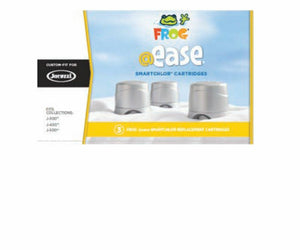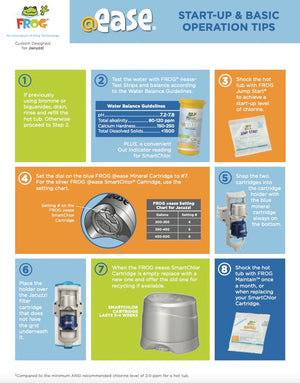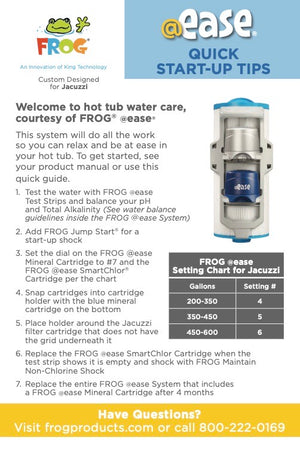 Frog® @Ease® Replacement SmartChlor® 3pk for Jacuzzi® J-300, J-400 & J-500 models, PN#6473-295
NOTE: This style SmartChlor® will only work with the filter attachment clip on select models, PN# 6473-316, sold separately. Please email us if you have questions about your spa's compatibility. Also available for purchase in one of our "bundles".
Compatible (with the holder, sold separately) with the following spas:
2015+ J-500 Series Hot Tubs
2013+ J-400 Series Hot Tubs
2012 J-495, J-425, J-415 (Not compatible with the J-460) models
All J-300 Series Hot Tubs
2023+ J-200 Collection Hot Tubs
*you will also need the complete Jacuzzi® @Ease® Sanitizing System every 3-4 months, PN#6473-294, which contains the mineral cartridge, one SmartChlor cartridge, test strips and JumpStart packet.
For the FLOATING style SmartChlor® cartridges, see PN# 6473-193 (works on J-200 and all other models)

Making life easier for Jacuzzi® owners is the goal of this FROG @ease System. It's conveniently designed to fit on the filter cartridge in most Jacuzzi® hot tubs (exception is J-200 models). Cleaner, Clearer and Softer® water is just down the road at your local Jacuzzi® dealer.  With FROG Minerals and SmartChlor® Technology, you'll enjoy Fresh Mineral Water®∞ that kills bacteria 2 ways with up to 75%* less chlorine and a lot less work!
•  
Up to 75% Less Chlorine Usage
•  
Only Shock Once a Month
•  
SmartChlor
™
 Self Regulates for Continuous Clear Water
Contains 3 replacement Jacuzzi® FROG®@Ease® SmartChlor Cartridges.
---