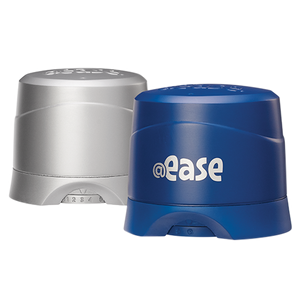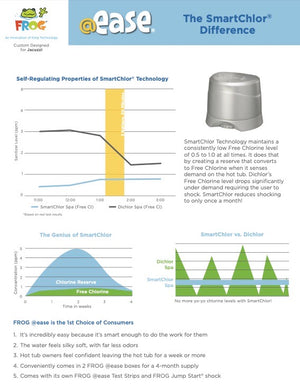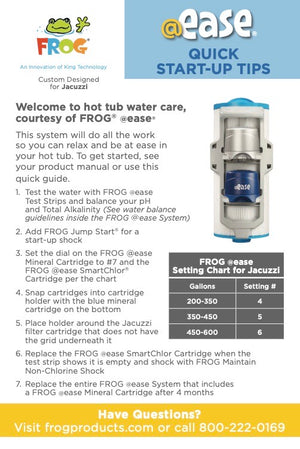 Frog® @Ease® Sanitizing System for Jacuzzi® J-300™, J-400™ and J-500™ models PN#6473-294
The Frog @Ease SmartChlor Jacuzzi Hot Tubs Sanitizing System is built-in hot tub water care that puts you at ease, PN#6473-294.* Please note that with this product the Mineral Cartridge does not arrive in a sealed pouch. The SmartChlor cartridge will be in a sealed pouch.
NOTE: This style Frog®@Ease® Sanitizing System will only work on select models with the filter attachment clip, PN# 6473-316, sold separately. Please email us if you have questions about your spa's compatibility. Also available for purchase in our "bundles".
Compatible (with the holder, sold separately) with the following spas:
2015+ J-500 Series Hot Tubs
2013+ J-400 Series Hot Tubs
2012 J-495, J-425, J-415 (Not compatible with the J-460) models
All J-300 Series Hot Tubs
*you will also need additional Jacuzzi® @Ease® SmartChlor Cartridges which come in a 3pk, PN#6473-295, which contains three replacement SmartChlor cartridges...we estimate each SmartChlor cartridge will last 3-4 weeks based on use.
@Ease Jacuzzi Hot Tub Sanitizing System 4 Part Kit Includes:
(1) Complete System - for hot tubs up to 600 gallons -(1) mineral cartridge lasts 4 months, unsealed and loose in container -(1) SmartChlor cartridge which can lasts up to 4 weeks, sealed in pouch
(30) @ease Test Strips - easy one color match tells when the SmartChlor Cartridge is empty - also tests for pH, Total Alkalinity and Calcium Hardness 
(1) Frog Jump Start - Start-up shock for a freshly filled hot tub, sealed in pouch
For the FLOATING style Frog®@Ease Sanitizing Systems, see
PN# 6473-192
 (works on J-200 and all other models)
---