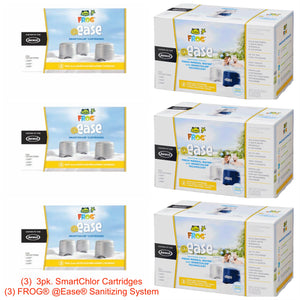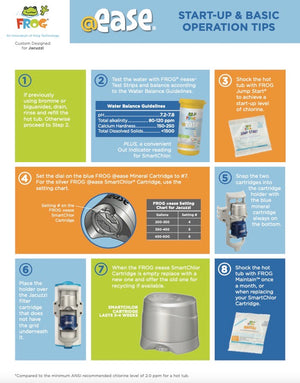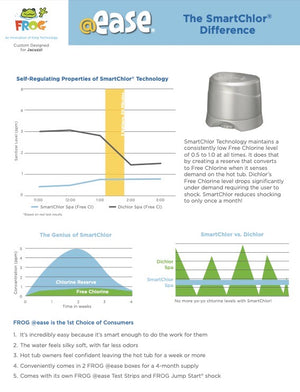 Jacuzzi® FROG @Ease® Annual Bundle
This "bundle" contains the following (for most households will equal a 1 YEAR supply):

(3) Jacuzzi® FROG @Ease® Sanitizing System ( PN# 6573-294) 1 mineral cartridge loose in box (not in a sealed pouch), 1 SmartChlor@ cartridge sealed in pouch, 1 Jump Start packet and 1 bottle of @Ease Test Strips

(3) Jacuzzi® 3-pack SmartChlor® Cartridges (PN# 6473-295)
*This bundle does NOT contain any Maintain Shock Packets but they can be purchased as needed separately.
NOTE: This style SmartChlor® will only work with the filter attachment clip on select models, PN# 6473-316, sold separately. See photos and instructions. Please email us if you have questions about your spa's compatibility. Compatible (with the holder, sold separately) with the following spas:
2015+ J-500 Series Hot Tubs
2013+ J-400 Series Hot Tubs
2012 J-495, J-425, J-415 (Not compatible with the J-460) models
All J-300 Series Hot Tubs
2023+ J-200 Series Hot Tubs
Making life easier for Jacuzzi® owners is the goal of this FROG @ease System. It's conveniently designed to fit on the filter cartridge in most Jacuzzi® hot tubs (exception is older J-200 models). Cleaner, Clearer and Softer® water is just down the road at your local Jacuzzi® dealer.  With FROG Minerals and SmartChlor® Technology, you'll enjoy Fresh Mineral Water that kills bacteria 2 ways with up to 75%* less chlorine and a lot less work!
---